Our skin is a particularly important organ of our body ! It fulfills a protective function against external aggressors. It is an essential element of our physical appearance. It performs its functions to the best of its abilities, but these diminish with age.
We must do everything possible to keep it in top shape and to compensate for its weaknesses.
Benefits of astaxanthin on the skin
Natural astaxanthin is a pigment extracted from the micro-algae Haematococcus pluvialis. Its protective properties, particularly for the skin, are becoming increasingly well known. Astaxanthin protects the skin from UV rays. Scientific studies attest to this: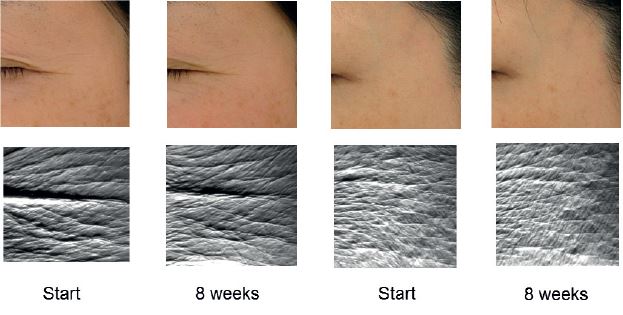 Two studies conducted in Japan (Tominaga and co. 2012) on men and women consuming 6 mg per day of astaxanthin were performed: 30 women for 8 weeks consumed 6 mg per day and 36 men for 6 weeks. The study with men is randomized against a control group.
From 6 weeks, these studies show an improvement of the skin on elasticity, wrinkles, skin dryness, age spots.
These results are confirmed by more recent studies. The in vivo study of Japanese researchers (Toshiyuki Komatsu and co. 2017) announce that a daily consumption of astaxanthin is able to reduce the effects of aging of the skin caused by the sun.
In this study conducted in Japan on mice exposed to UVA, the positive effects of daily consumption of astaxanthin are observed on the epidermis and dermis through a significant reduction in skin dryness and the appearance of wrinkles.
A randomized placebo-controlled clinical study was conducted in Japan (Ito N. 2018) on 23 women for 10 weeks. This study shows that a daily consumption of 4 mg of astaxanthin provides significant protection of the skin against the effects of UV.
Another randomized, double-blind, placebo-controlled clinical study published on June 25, 2018, shows the efficacy of astaxanthin in protecting the skin from ultraviolet radiation. The astaxanthin used is the powerful natural antioxidant, extracted from the microalgae Haematococcus pluvialis.
In this study conducted in Japan for 10 weeks, participants received 4 mg of astaxanthin or a placebo for the control group. The parameters observed were skin dryness and the time of appearance of redness on the skin caused by ultraviolet rays. The results demonstrate the protective role of the skin against ultraviolet rays of a food supplementation rich in astaxanthin.
Ultra pure natural astaxanthin
Trial offer ( 2 x 60 ) | 4 mg – Premium Astaxanthin
Ultra powerful antioxidant, two months cure
Order