Chlorella : Cultivation Method in Glass Tubes
eChlorial High Quality Organic Chlorella is grown in Europe in Glass Tubes
Chlorella must be extra pure: Chlorella eChlorial is a freshwater algae cultivated in glass tubes under natural light, a totally controlled production in an environment 100% protected from any pollution.
Only a fully enclosed device, allowing total control of all elements entering the medium, can guarantee the production of a microalgae of extreme purity..
The production of Organic Chlorella cultivated in glass tubes is protected from any pollution of the outside environment coming from air dust, insects, birds… unique and patented conditions.
This method of production does not cause any stress to the small algae which will keep its cell intact. It is important to keep the precious nutritional components of the algae well protected in its cell membrane. This is the best guarantee to preserve the integrity of the product. Chlorella with intact cells will be absorbed without any problem because the membrane will open naturally thanks to the acidity of our stomach.
The cultivation of Chlorella vulgaris eChlorial® in glass tubes is the result of a unique and patented process that requires a great deal of know-how. This method of cultivation in glass tubes eliminates all risks of contamination of the plant by external pollutants that may come from dust in the air or contained in rainwater, undesirable elements produced and transported by birds or insects.
Chlorella vulgaris eChlorial® meets the most stringent requirements for food quality. The culture in glass tubes is the result of an innovative process developed by scientists.
You can watch a video presentation of Chlorella production here:
The originality of the technology developed by European researchers lies in the use of glass tubes as containers for the plant's culture medium.
The photosynthesis of the plant is provided exclusively by sunlight.
The plant grows in pure water containing carbon dioxide and mineral salts of controlled food quality. In its liquid element, the algae is kept in circulation in glass tubes under specially designed hydrodynamic conditions to ensure optimal light exposure of the entire plant.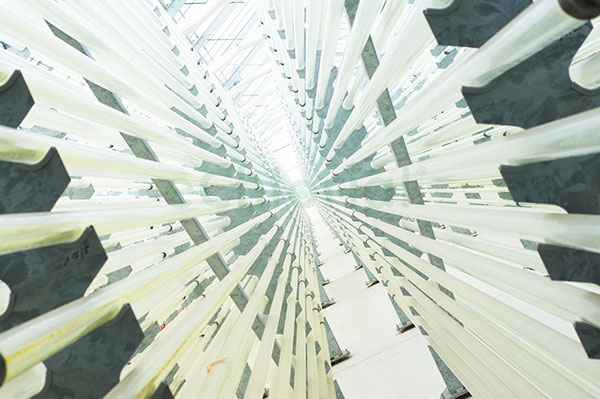 The biomass extracted from the liquid medium is carefully dried.
Chlorella vulgaris develops by cell division in its culture medium whose composition and purity are perfectly controlled.
When the concentration is deemed optimal, a quantity of biomass is extracted. It is then separated from its liquid medium by centrifugation and carefully dried in a desiccator in order to preserve the integrity of all the components of the algae.
It is packaged in powder and tablet form. The system is fully automated.
There are several ways to grow Chlorella. Most of the other methods are much more productive and therefore more profitable. However, the prices of these chlorella are not much different from those of chlorella grown in glass tubes!
Chlorella Grown in Glass Tubes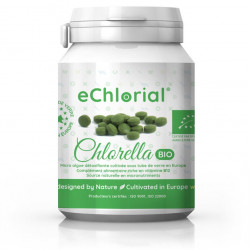 Trial offer: Organic Premium Chlorella (2 months) 340 tablets
Worldwide Shipping with DHL
Discover