Chlorella, micro-algae, is a food! Chlorella is not considered as a medicine, yet it has many health properties, validated by health authorities, the best known of which (but not the only one) is its ability to help detoxify heavy metals from our body*. The scientific literature is rich in publications and recognized articles that describe its beneficial effects on our health.
Chlorella is mainly produced in Asia, the quality of which can be very variable and above all difficult to verify. It is 99% of the products that you will find on the market, but there have recently been a few algae farms in Europe producing high quality organic chlorella, using a process in glass tubes that guarantees its purity. Indeed, chlorella is a real magnet for toxins and heavy metals, so it is imperative that it grows in a fully controlled environment protected from outside contamination.
Chlorella can be found for consumption in dry "raw" form, in powder or in tablets, often called capsules. Most Asian chlorella producers sell "broken cell wall" chlorella, arguing that it is better digested, but no difference in digestibility or effectiveness between intact and split cells has ever been demonstrated.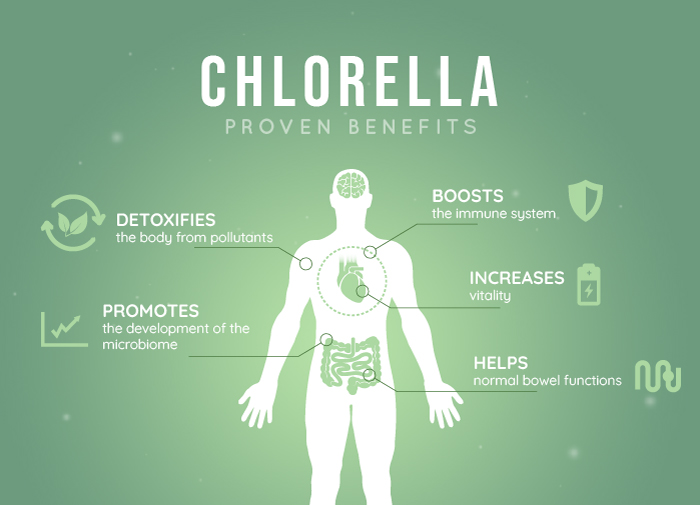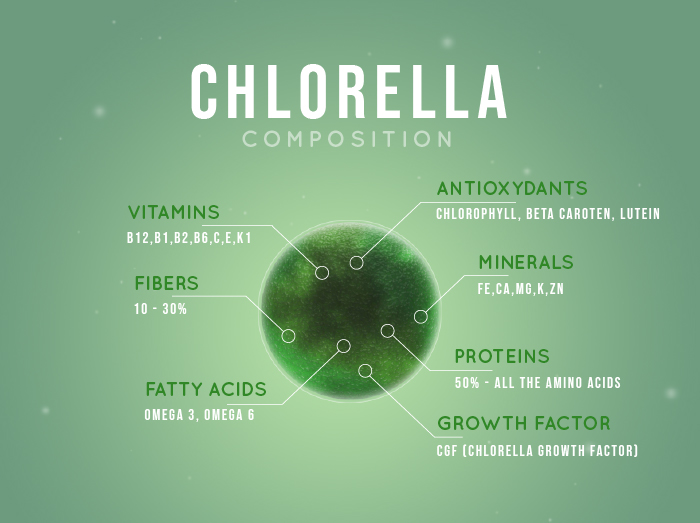 The active ingredients of chlorella are such that pharmaceutical laboratories are seeking to extract them to create or enrich medicines. About 80% of new consumers perceive the positive effects of chlorella before the end of the first month (*).
Organic Chlorella, grown in glass tubes in Europe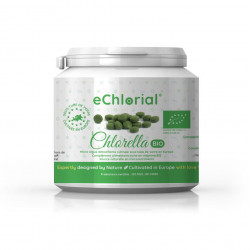 Dosages and usage recommendations : how to take chlorella ?
Organic Chlorella can benefit nearly anyone, but there is no universal recipe for its use. We are all complex beings with many commonalities, but we are also individuals with our own unique characteristics and backgrounds. Factors such as absorption rates, disposal capabilities, physiological reactions, and levels of pollutants in the body are all specific to each individual.
These usage recommendations serve only to guide your first doses of chlorella. They provide information about average doses and treatments and should therefore be read for informational purposes only. It is important to make adjustments and find the dose that is right for you, according to your own unique needs. Moreover, do not forget that our needs can change over time, depending on the season, stress levels, fatigue, or other varying factors.
Some people choose to take chlorella for 3-4 months twice a year while others prefer to take their supplements year-round. Similarly, some people take 10 chlorella tablets (300mg) a day while others take 30 tablets. It is up to each individual to adjust the dosage to his or her own needs.
Please note that no case of an overdose of chlorella has ever been reported.
To find the right dosage for you, pay close attention to your body's reactions and how you feel overall.
Important things and false rumors to know about chlorella ➤ The 7 Lies about Chlorella
Recommended dosage for adults
Consumer experiences have shown that a daily dose of 2-5 grams of chlorella (or 10-15 300 mg chlorella tablets) has significant positive effects on quality of life. Doctors and nutritionists also suggest taking 3-5 grams or 10-15 tablets every day to prevent health complications and illnesses.
Recommended dosage for children
Powdered chlorella (or crushed chlorella tablets) can be given to children. Doses should be adjusted to the weight of the child in proportion to the recommendations for adults. For example, a child weighing 20 kg should take around 1 gram of chlorella or 3 crushed chlorella tablets.
Benefits of Chlorella
Chlorella is a unicellular green microalga packed with essential nutrients and offering numerous health benefits. Scientific studies have demonstrated its beneficial properties, particularly in terms of detoxification, supporting the intestinal microbiota, boosting immune defenses, improving vitality and supporting normal intestinal function.
Chlorella detoxifies
Chlorella is considered a powerful detoxifying agent. It is able to bind heavy metals such as lead and mercury, as well as other toxic substances present in the body. By binding to these toxins, Chlorella contributes to their elimination via the intestinal tract, thus reducing their negative impact on health.
Development of the intestinal microbiota
The intestinal microbiota, made up of billions of beneficial bacteria, plays a crucial role in our digestive and general health. Studies have shown that Chlorella can promote the development of a balanced intestinal flora. By stimulating the growth of good bacteria, it helps maintain a healthy microbiota, which can improve digestion, boost immunity and prevent certain diseases.
Boosts the immune system
Chlorella also boosts the immune system. It contains bioactive compounds such as beta-glucans, which stimulate immune cells and promote antibody production. These immunostimulant actions help protect the body against infection and disease, by strengthening the natural immune response.
Enhanced vitality
Chlorella is rich in essential nutrients, such as vitamins, minerals, antioxidants and amino acids. These nutrients help to deeply nourish the body and improve vitality. By providing a full range of nutrients, Chlorella can help reduce fatigue, boost energy and support healthy cell and tissue function.
Helps normal intestinal function
Chlorella is also known for its beneficial properties on normal intestinal function. Its dietary fiber and active compounds promote intestinal regularity and support digestive health. It can help relieve constipation, improve colon health and prevent digestive disorders.
Various benefits experienced by chlorella consumers
Numerous testimonials from chlorella consumers also attest to its many benefits for joints, intestines, skin, mucous membranes and more. These testimonials, collected over more than 20 years, are sorted and available here: Chlorella opinions and testimonials.
When to take chlorella ?
Take chlorella at least one hour before or after taking any other medications (such as birth control pills). Ideally, take chlorella in the morning and other pills at night.
If it is more convenient, chlorella can be taken in two or three doses throughout the day rather than all at once.
Take chlorella before meals and with a large glass of water.
Because chlorella is rich in bioabsorpable iron, do not drink tea with chlorella. Tea can inhibit the absorption of iron.
In addition to taking chlorella tablets, using chlorella powder in cooking is very important, particularly when eating fish, which invariably contains a variety of toxins. Add 1-3 teaspoons of chlorella powder at a low temperature (60 degrees Celsius or below) or at the end of cooking in order to preserve its vitamins.
Recommendations for first use
It is best to begin by taking 1-2 chlorella tablets per day. Progressively increase the dose until reaching the desired dosage.
The average recommended dose of 10-15 tablets per day (2-5g) can be reached in 10 days.
Do I need to take chlorella year-round?
Chlorella can be taken every day, year-round. Alternatively, it can be taken in treatments of 3-4 months. These treatments should occur twice a year, once in spring and once in autumn.
Contraindications to chlorella
Those affected by hemochromatosis (an excess of iron) should not take chlorella because the supplement contains bioabsorbable iron.
If you are taking anticoagulants, consult your doctor before taking chlorella. Because chlorella contains vitamin K, which plays a role in coagulation, the supplement may affect anticoagulation treatment.
Side effects of chlorella
Possible intestinal disruption during the first days of use
Chlorella can stimulate intestinal activity immediately. Therefore, slight disturbances in intestinal behavior, including bloating, can occur during the first days of taking chlorella. These effects do not last.
The majority of new consumers notice an increase in intestinal activity without experiencing any significant discomfort. But if intestinal activity increases too much or too quickly, decrease the daily dose of chlorella or, if necessary, stop taking chlorella for several days.
Although few people experience a slowing down of intestinal activity, if this is the case, quickly increase dosage (30-60 tablets or more) and drink more liquids, preferably water. Normal functioning will return in approximately 10 days.
Side effets : Headaches, Vomiting, Joint pain, Dizziness…
Although they are rare, other side effects can occur after the first dose of chlorella. These may be due to the beginning of the detoxification process, which stirs up heavy metals that have accumulated in the body.
Side effects affect around 10% of people taking chlorella and vary in nature and intensity, depending on the level and type of pollutants in the body.
Some of the most common side effects include: headaches, sinus infections, joint pain, numbness, depressed mood, dizziness, and shaking.
To remedy negative side effects, increase dosage in order to accelerate the rate at which chlorella eliminates toxins and leaves the body. Take up to 15-30 tablets four times a day until side effects subside (8-10 days). Slowly reduce dosage amount and frequency until reaching a normal daily dose.
In some cases, consumers that are sensitive to caffeine have also experienced restlessness when taking chlorella with coffee. To avoid this side effect, it is best not to take chlorella with caffeine or at night.
If you're looking for a natural & efficient heavy metal detoxification program, please see Dr Klinghardt detox program.