Chlorella
The Queen of Detox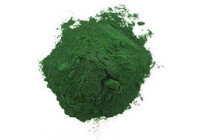 Organic Chlorella eChlorial is ultra pure, grown under glass tube protected from any external pollution. Cultivated in ★ EUROPE ★, in a perfectly protected environment, it develops in natural light. Our Organic Chlorella is 100% natural. We offer Chlorella powder as well as tablets. Chlorella is a microscopic algae with many health properties. Organic chlorella is very appreciated by people wishing to maintain, detoxify, sportsmen, vegetarians, vegans and those who choose an "organic" and natural lifestyle.
Chlorella, a powerful natural detox agent
Organic chlorella is today THE most efficient natural detoxifier known thanks to its chelating membrane which absorbs certain heavy metals and pesticides and its high chlorophyll content! Consumed for years in Japan for its numerous virtues, it is only beginning to be known by the general public in the West. Chlorella eChlorial, the pioneer of the market in France, is one of the purest: it is cultivated in Europe under glass tubes, completely protected from external pollution. 
Spiruline
Astaxanthine
Omega 3