Spirulina
Athletes' Perfect Ally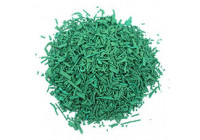 The eChlorial Organic Spirulina is one of the very few organic spirulina grown exclusively in ★ Europe ★, in a perfectly protected environment and in natural light. Our 100% natural Spirulina without additives or chemicals is dried by hand to preserve all its precious nutrients. Organic Spirulina is highly appreciated by athletes, people wishing to maintain themselves, vegetarians, vegans and those who choose a healthier and natural lifestyle.
Spirulina, an exceptional food supplement
Spirulina, with its 60% protein content and its powerful blue antioxidant, phycocyanine, a true natural doping agent, is a very effective food supplement. It has many health benefits, especially for improving vitality and preserving muscle mass during diets! Consumed for hundreds of years in South America but also in Africa under the name of "Dihé", it is the most popular micro-algae in the West. eChlorial offers a very high quality spirulina, grown in Europe and certified organic!
Chlorella
Astaxanthine
Omega 3