Spirulina
Athletes' Perfect Ally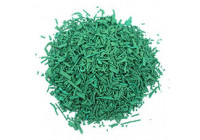 The eChlorial Organic Spirulina is one of the very few organic spirulina grown exclusively in ★ Europe ★, in a perfectly protected environment and in natural light. Our 100% natural Spirulina without additives or chemicals is dried by hand to preserve all its precious nutrients. Organic Spirulina is highly appreciated by athletes, people wishing to maintain themselves, vegetarians, vegans and those who choose a healthier and natural lifestyle.
Spirulina, an exceptional food supplement
Spirulina, with its 60% protein content and its powerful blue antioxidant, phycocyanine, a true natural doping agent, is a very effective food supplement. It has many health benefits, especially for improving vitality and preserving muscle mass during diets! Consumed for hundreds of years in South America but also in Africa under the name of "Dihé", it is the most popular micro-algae in the West. eChlorial offers a very high quality spirulina, grown in Europe and certified organic!
The Benefits of Organic Spirulina
Spirulina is a cyanobacteria sometimes called blue-green micro-algae, very rich in nutrients! It is an important source of protein (60%), amino acids, vitamins and minerals. It also contains a super antioxidant, phycocyanin, and essential fatty acids. The benefits of spirulina are numerous: it improves tone and vitality, preserves muscle mass and helps maintain healthy sugar levels in our bodies. Many consumers also report beneficial effects on hair, skin and as a valuable weight loss aid.
Tablets, capsules, powder? In what form to take Spirulina
Organic spirulina is available in tablet (capsule) or powder form. Each of these forms has its advantages and disadvantages. Tablets are easy to take and can be transported easily. Tablets also allow for accurate dosing. The powder is ideal for those who want to add spirulina to their smoothies or juices and is preferred for a quick feel according to consumers. The form of spirulina you choose will depend on your personal preferences and the reason you are taking spirulina.
How much spirulina per day? Advice and recommended dosage
The recommended dosage for spirulina depends on the purpose of your organic spirulina intake. To support the immune system and increase energy levels, a dose of 3 to 4 grams per day is recommended. For athletes and people wishing to improve their physical performance, a dose of 5 to 7 grams per day may be recommended. It is important to start with a lower dose and gradually increase to see how your body reacts.
Importance of quality and traceability of Organic Spirulina
When buying spirulina, it is important to choose a high quality organic spirulina of controlled origin. The standards of cultivation and production must be respected to guarantee the quality and safety of the spirulina. Spirulina is often grown in Asia in places and environments that are difficult to control, so it is important to ensure that the spirulina you buy is of European origin and free of contaminants such as heavy metals. By choosing a high quality spirulina of controlled origin, you can be sure that you are getting the full benefits of spirulina and minimizing the risks to your health.
Chlorella
Astaxanthin
Omega 3