Astaxanthin is a powerful natural antioxidant belonging to the carotenoid family. It is found in certain algae, fish and shellfish. In addition to its proven beneficial effects on skin and sports performance, astaxanthin has also been studied for its benefits on eye health and visual acuity. Scientific studies highlight astaxanthin's benefits for the eyes and its ability to preserve healthy vision, and even enhance visual acuity. Astaxanthin is currently being considered as a valuable aid in the fight against ophthalmic pathologies.
How does astaxanthin boost eye health?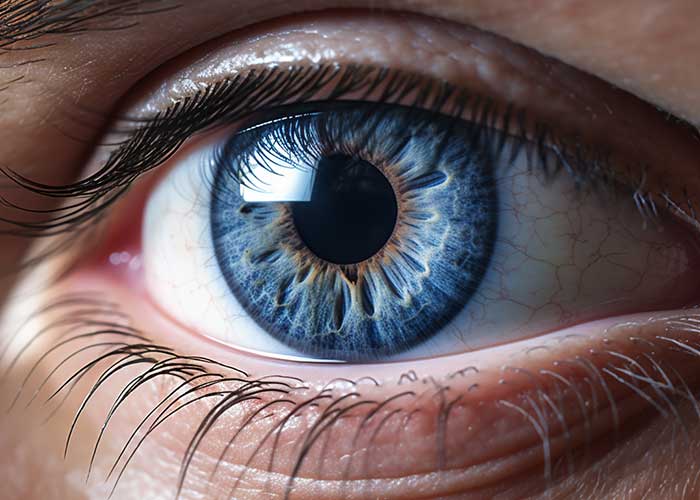 Astaxanthin is a powerful antioxidant that crosses the blood-retinal barrier, meaning it can reach retinal cells directly. It is a natural filter that protects against aggressive rays. It promotes capillary blood circulation in the macula region. Its antioxidant power reduces the damaging effects of free radicals. It thus protects the retina against damage caused by blue light, free radicals and UV rays, which can lead to macular degeneration and other age-related vision problems.
Such filtering properties are leading the cosmetics industry to consider the use of astaxanthin in sun creams!
Astaxanthin could repair or delay the onset of AMD
Age-related macular degeneration (AMD) is a common eye concern among the elderly. It causes a progressive deterioration of central vision. In human studies, astaxanthin has been shown to improve visual acuity and contrast sensitivity in people suffering from AMD. Blood microcirculation near the macula is also enhanced.
Astaxanthin, Ultra Powerful Antioxidant
Trial offer: Natural Astaxanthin (2 months) 120 capsules
Astaxanthin Premium eChlorial
Discover
For keratinitis, cataracts and glaucoma, only animal studies have been published. They show improvements due to enhanced capillary blood circulation, reduced inflammation, oxidative stress and apoptosis. These results are not enough to declare victory too quickly, but they do reveal real potential. The effect of astaxanthin in reducing the consequences of ocular pathologies remains to be studied and quantified in humans.
Improved visual acuity thanks to astaxanthin
Astaxanthin could help improve visual acuity, which may be particularly beneficial for people suffering from eye fatigue due to prolonged screen work and/or unfavorable environmental conditions.
A randomized multicenter study of 145 patients by Piermarocchi S & col, published in 2012, showed that patients supplemented with antioxidants such as lutein/zeaxanthin and/or astaxanthin (4 mg/day) showed clinically significant stabilization or even improvement in visual acuity, contrast sensitivity and visual function over 24 months compared to subjects who were not supplemented. Further, longer-term studies are required to confirm these results, and to give indications as to the persistence of the effects observed.
Astaxanthin protects eyes from damage caused by radiation, particularly ultraviolet rays
Prolonged exposure to ultraviolet (UV) rays can damage eye cells, increasing the risk of cataracts and other eye disorders. Astaxanthin, as a powerful antioxidant, can help protect eyes from the damaging effects of UV radiation.
An animal study published in the Journal of Nutrition showed that administration of astaxanthin could prevent UV-induced damage to the retina in mice.
Protecting against dry eyes and inflammation
Chronic inflammation is a contributing factor to many eye problems and/or discomforts, including dry eye and conjunctivitis. Astaxanthin has anti-inflammatory properties that can help reduce inflammation in the eyes.
Several studies have demonstrated this, including a clinical study published in the Journal Clinical Ophthalmology which showed that antioxidant supplementation with astaxanthin can increase tear production and improve tear film stability by reducing oxidative tear residues. It appears to be an interesting addition to conventional artificial tear solutions for patients suffering from dry eyes.
Studies confirm astaxanthin's safety and bioavailability
The current state of research into the effects of astaxanthin on eye health confirms its real value in protecting the eye and vision from external aggressors (pollution, UV radiation, chemotherapy) or age-related decline. Astaxanthin is considered an extremely promising ophthalmological supplement.
Studies in humans confirm an improvement in dry eye syndrome, vision and contrast sensitivity, particularly in people suffering from AMD.
Other eye problems such as keratitis, cataracts and AMD could also benefit from this powerful antioxidant. These are all responsible for the production of oxidative stress, inflammation and the generation of deleterious intermediary products and cell death. These ophthalmological problems should be improved, and even their onset delayed, by consuming 4 to 12 mg astaxanthin a day. Studies on men are still to come.