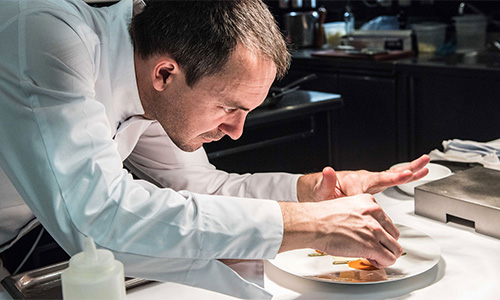 What's your background: you're still young, yet already Head Chef of a Michelin-starred restaurant!
I began my career with Thierry Marx at Relais et Châteaux Cordeillan-Bages, before joining La Maison Troisgros in Roanne for over 6 years, and finally working alongside Pierre Gagnaire for 4 years in Paris, Courchevel, London, Seoul and Saint Tropez.
Not only did these sacred monsters of gastronomy pass on their knowledge, passion and know-how to me, but they also took me on trips, mostly to Asia. In Tokyo, Seoul, Hong Kong, Singapore… I discovered other cultures, other products, other ways of doing things, and this deeply inspired me.
How did you discover the use of micro-algae in cooking, in particular chlorella?
I discovered chlorella with Michel Izard, who used it to flavour bread, and Pierre Gagnaire, who used it in some of his dishes. But the years went by and then one day I found spirulina in a grocery store in Forcalquier… After a few inconclusive attempts, Thierry Mechinaud recommended Chlorella to me.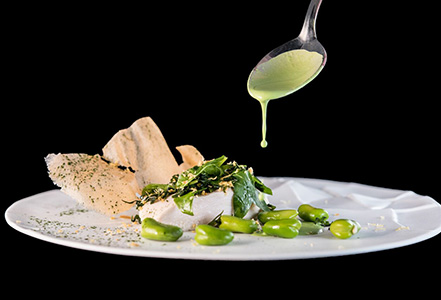 What were your first experiences, how do you use it and how do you suggest it?
Instinctively, I infused it in a light ginger cream and then tied it with fevettes and sea lettuce. This garnish accompanies a supreme of Jabron Valley poultry poached in a lemongrass consommé.
Microalgae are becoming increasingly well-known and used not only for their health benefits, but also for their interest in cooking. As a chef and ambassador of French gastronomic cuisine, you choose your products for their quality. Do you have any other requirements, particularly in terms of nutritional quality?
I'm very sensitive to the well-being of our guests.
I work towards this goal by integrating ingredients with good virtues or simply by using organic products as much as possible, without claiming to be a health chef, which is beyond my remit.
We are currently experiencing a change in the way we live, and in particular the way we eat. Better informed, more knowledgeable, we are often at a loss when it comes to composing our plates. Do you think that haute gastronomy can help spread the message of eating better and eating healthily?
In my opinion, the best solution is to eat regularly, in a balanced way and with products that have undergone little or no chemical processing. As part of my approach to menu design, I insist on a harmony of flavors, textures, raw materials and nutritional balance; this is part of our training as cooks. But it should be instilled in every individual. It's our lives that are at stake.
Which products most inspire your culinary creativity?
I don't have a preference; I work mainly with local producers, who guide me in my choice of products according to the season.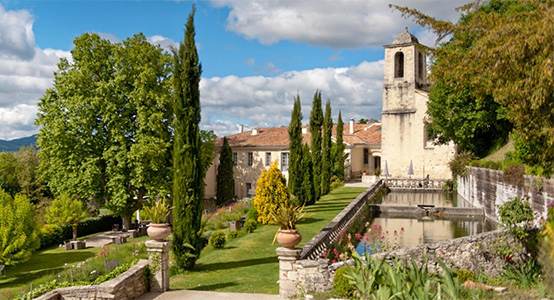 Le Couvent des Minimes seems to be a beautiful haven of peace, ideal for recharging one's batteries: can you describe the establishment in a few words?
The Couvent des Minimes is located in the heart of the Lubéron, in a garden of several hectares, and is a magnificent place where the building has been skilfully restored to preserve its authenticity. A large avenue of Italian and Provencal cypress trees greets travellers as they enter the convent, which has 46 dwellings, including 8 suites.
After a stroll through the several-hectare garden, everyone can try their hand at shooting or pointing on the pétanque court. The heated outdoor swimming pool and tennis court offer other ways to relax. Unless, of course, you prefer a drink on the terrace of the bistro Le Pesquier…
Starred by the Michelin Guide® in 2016, Le Cloître restaurant, where I work behind the scenes, is an epicurean hymn to the art of entertaining. The seasons guide the creation of our menus, guaranteeing exceptional quality and freshness. From the gardens of the Couvent or local producers, each product is meticulously selected to create creative menus inspired by the Mediterranean. Provence lamb chops with lavender, or Lemon in a cocktail of textures have become cult interpretations of southern flavors, and the soft-boiled egg with sweet chili, prawn tartar and basil mousseline are just a few examples. In summer, the terrace overlooking the pool and lavender fields adds a special charm.
Do you have a favorite quote?