Consumers of eChlorial organic chlorella for years, the 3 Michelin-starred Pierre Gagnaire restaurant gave us the opportunity to interview Thierry Méchinaud, the restaurant's head chef for over 18 years, about their "plankton" cuisine! A real pleasure to discuss culinary art and its perpetual renewal, thanks in particular to new foods such as spirulina and chlorella.
Pierre Gagnaire has been recognized by his peers as the world's greatest Michelin-starred chef [Le Chef magazine published a ranking in 2015, after surveying 512 international chefs with 2 or 3 Michelin stars]. We are particularly proud and honored by the trust Pierre Gagnaire has placed in us for many years.
You've been contacting us regularly for many years to order Chlorella powder for restaurants in Paris and Courchevel. Can you tell us a little about yourself, Pierre Gagnaire and the restaurants?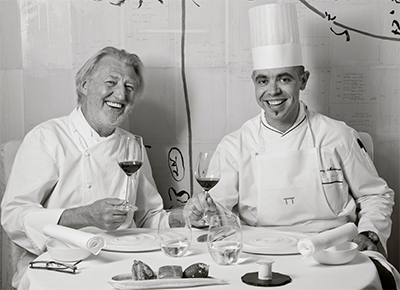 I'm a chef and I've been working with Pierre Gagnaire for 18 years.
The reason I've been at the restaurant all this time is that I've been working with Pierre Gagnaire in a constant search for innovation in the kitchen. There aren't often any new products, but the way we use them and accommodate them is constantly renewed, to the delight of both us and our customers. We can find all kinds of products, all year round, but we mainly use seasonal products, as I choose local produce as much as possible.
I'm responsible for purchasing at both Pierre Gagnaire's Paris and Courchevel restaurants. I'm particularly attached to product quality. I'm very close to my suppliers. They know me and know that I'm demanding. On our menu, we use a lot of seafood, seaweed such as wakame, dulce, kombo, nori flakes and samphire, as well as plankton and micro-algae such as chlorella and spirulina.
Pierre Gagnaire restaurants can be found in Courchevel, London, Berlin…
The Paris restaurant on rue Balzac employs 45 people, including 12 cooks and 6 pastry chefs. The Paris restaurant serves around 80 covers a day, mainly for dinner.
Why and how do you use Chlorella powder in your recipes? How did you choose it?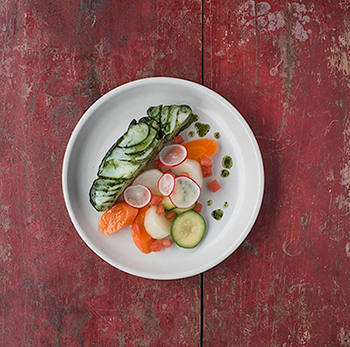 A few years ago, Michel Izard, expert baker at "La maison du Boulanger" came to demonstrate the production of different breads at the Courchevel restaurant. He recommended eChlorial Chlorella, which he already uses himself.
Chlorella and spirulina are often used in mixtures, for color and taste. We can use them in infusions, royal (flan), sauces to accompany fish, spider crab or langoustine. We currently offer a line-caught sea bass macerated in plankton butter. We also make plankton breads. We don't have a dessert yet, but maybe soon!
How do consumers react to your seaweed dishes?
They're curious and often ask us questions. We show them the products used to color and lightly flavor their sauce or dish.
They're delighted to learn that all our colorants are 100% natural, like chlorella, which has a deep green color, and spirulina, which has a slightly bluish hue. We often mix and match colors and flavors. Once heated, the colors are much brighter. Chlorella and spirulina have light, subtle tastes.
We're not surprised, then, to discover warm smiles and a great deal of kindness in this pleasant exchange with Thierry, his head chef, and Magali, his assistant. It's no coincidence that Pierre Gagnaire's staff are so loyal to him!
Like many of us, we haven't yet had the pleasure of tasting this Grande Cuisine, but the dream that Pierre Gagnaire and his team offer us, is always accessible.