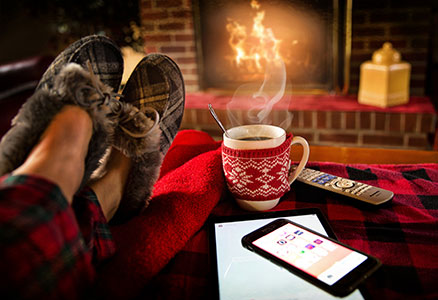 Winter is coming!!! Like every year, winter is coming with its share of pleasures and little boo-boos… How to boost your immunity by using the precious micro algae properties in this winter period? We guide you!
Inhabitants of temperate countries, we have the privilege of 4 seasons! Each one offers us the pleasures of a rhythmic nature, always renewed, of which we never get tired. The winter season with its grey and cold days leads to a decrease in our physical and moral form. It is conducive to the proliferation of viruses that we share without reserve. Winter is not the most appreciated season, unlike spring. But before enjoying the awakening of Mother Nature again, we must face winter and its rigors! It is advisable to prepare for it to better protect ourselves.
OPTION 1 : Spirulina + Astaxanthin cure
Suitable for the most active among us! If you like to take advantage of the beauty of winter and regularly go hiking, skiing, snowshoeing… The spirulina and astaxanthin cocktail will be particularly adapted to your energy needs. Spirulina will bring you many nutrients and minerals in addition to its powerful antioxidant, phycocyanine, a real natural EPO.
As for astaxanthin, it is known to give a real boost and, icing on the cake, it will help protect you from the sun in the mountains, a sun you should be particularly wary of! See the article Astaxanthin and skin.
For this cure Organic Spirulina + Natural Astaxanthin dedicated to athletes of all ages, we recommend a consumption of 3.5 months of spirulina tablets + 2 months of Astaxanthin in parallel: 3 g (approx. 8 tablets) of spirulina / day to be taken in the morning on an empty stomach and 2 capsules of Astaxanthin to be taken at lunchtime during the meal.
OPTION 2 : Chlorella + Omega 3 cure
If you prefer to stay warm this winter, the combination Organic Chlorella + Omega 3 will be the ideal formula !
Chlorella contains tryptophan, a precious amino acid that promotes the production of neuromediators such as serotonin and melatonin. Being enriched with this essential element allows us to better live with our lack of light by avoiding the seasonal blues that usually arrive with the fall. Rich in chlorophyll, carotenoids (Beta carotene, Lutein …), vitamins, trace elements … Chlorella is composed of precious elements that allow our immune system to arm itself against external aggressions and to be better prepared for the winter season.
Its powerful detoxifying properties also make it a precious ally to help us evacuate certain toxins and undesirable heavy metals.
Omega 3 extracted from micro algae! Gold in capsule for our body: we are almost all deficient in Omega 3 (see article Benefits Omega 3). It is thus essential to make sure that this essential nutrient comes to supplement our daily diet to protect us to the maximum of the external aggressions. Among the long list of qualities that they possess, Omega 3 contributes to the health of our heart, reduces the level of cholesterol, helps to maintain flexible joints and supports our immune system!
For this cure Organic Chlorella + Omega 3, we recommend a consumption of 3,5 months of chlorella in tablets or in powder + 4 months of Omega 3, to take in parallel: that is to say 3g of chlorella (6 organic tablets) / day to take in the morning and 1 capsule of Omega 3 to take at midday during the meal.